These smart kitchen cabinet storage organizing ideas and tips are full of beautiful home decor inspiration for any size of kitchen. Whether you're remodeling a new kitchen or looking for easy ways to organized your kitchen now, you'll love our favorite ideas from this new modern farmhouse kitchen remodel!
Smart Kitchen Organizing Ideas
Do you feel like the kitchen is the last place you have time to organize? Don't worry – we've got your back! This blog post will show you 10 smart organizing ideas specifically designed for busy moms in mind, so that even if there's never enough hours in the day, at least your kitchen can still stay tidy and functional.
All it takes is a little know-how and creativity – get ready for some seriously clever tips!
Get inspired by these cabinet storage and kitchen organizing ideas. I spent a year planning my dream kitchen and the cabinet storage and drawer organization was a huge part of the planning. After remodeling my kitchen, I wanted to share some clever organizing ideas with you.
10 Easy Kitchen Organization Ideas & Cabinet Storage Tips
Whether you're planning a new kitchen space or just need some smart kitchen organizing ideas for your cabinets, you will find some great inspiration with these tips.
1. Make a Pull-Out Trash Can Cabinet
I love my pull-out trash can cabinet! Out of all of my new kitchen cabinet organization, this is probably my favorite thing and such a life changer! I love that it holds two trash bins, one for regular trash and one for recycling.
This double trash can cabinet came with my cabinets, but if you want to add this double pull-out trash can to one of your under the counter cabinets, here's a good option. -> (click here for a double trash can option).
Looking for a gray trash can like what's in my cabinets? (Here) is where I found more of these nice trash cans.
2. Use a Lazy Susan for cabinet storage
Utilize more space in your cabinets with a lazy Susan! I use a vintage Lazy Susan to hold my spices. It's my favorite way to find and organize my herbs and small baking supplies.
This green one came from my mom's kitchen circa 1970 something. I love the retro look!
Best of all, I am absolutely in love with my built-in Lazy Susan kitchen cabinet! I used to have to dig around in this cabinet before adding this feature to my new kitchen. This really is the perfect cabinet storage for a corner.
It's so nice to easily see and reach everything! This is one of my favorite kitchen organizing ideas for sure. If you have a corner cabinet like mine, but need a Lazy Susan shelf, I found (this option) that would work great.
3. Install A Two Tiered Divided Cutlery Drawer
Cabinet drawer organizers keep cutlery neatly separated, so you never have to dig around for what you need. This amazing two tiered cutlery divider that came with my new cabinets and gives me room for more than one set of silverware.
This could be one of the best things I've ever had in my life! No joke! If you want to install one, I highly recommend it and found a good (option here).
4. Display Cookbooks in a Creative Way
Cookbooks are great on open shelves, but if you don't have shelf space, try getting creative with containers.
I used my vintage locker baskets to display my favorite cookbooks. I love that I can see them through the wire and easily grab one when I need it.
Looking for a similar wire basket? I love (this option).
5. Use Shelves for What You Might Lack in Cabinet Storage Space
Shelves are an inexpensive way to add more space to your kitchen. I organized my pantry with some new shelves and I'm loving them! I can't wait to show you my before and after pantry area. It's still a work in progress, but getting there. If you can find a spare wall, try adding a shelf or two.
Shelves like this are very easy to find and install. (Here) are some similar shelves like mine.
6. Use a Pegboard to Organize Plates
I love storing my plates in a drawer! The kids can reach them and it leaves space in my upper cabinets for other kitchen supplies. My cabinets came with a plate organizer that fits nice and neat inside of their cabinet drawers. You could make your own with a pegboard (like this here) to organize a kitchen drawer.
7. Create Cabinet Storage for Tea or Coffee Makers
I've always wanted a coffee bar, so with my new kitchen I made sure to designate an area just for coffee! I have electric outlets inside of a few cabinets and can hide my coffee maker, cups and more. I love that I can shut the doors and it looks nice and neat. You could also make a coffee bar area with a roll cart (option here).
8. Use Soft-Close Wood Drawer Boxes for Cabinets
When designing my new kitchen I wanted to have a designated cook zone. With these nice wooden drawer boxes, I can easily pull them out to see what pots and pans I need. Find a (similar option here).
For my cooking zone, I made sure these pull out wood drawers and my drawer full of potholders and cooking utensils were within reach of my oven.
I also have my iPad stand next to my mixer most of the time, so I can have recipes handy! My family knows this is my designated cooking zone and to steer clear when Mom is cooking. ha!
A food pantry is another way to use these fabulous pull out wooden box drawers! Find a (similar option here).
9. Keep Items You Use on a Daily Basis Together
Keep sandwich bags, parchment paper and foil together in a drawer near the refrigerator for storing away leftovers or putting school lunches together quickly.
I have all of my mixing and serving bowls in one cabinet, so when it's time to bake or entertain, it's all in one place.
I love finding pretty glass containers for kitchen storage.
A glass cookie jar can be used to store crackers, cereal and in my case cookie cutters!
Glass containers and wire baskets are my favorite, because I can see what's inside. Find my favorite glass containers (here).
10. Store Small Kitchen Appliances Together for Easy Access
One of my favorite things about my new kitchen is having a cabinet just for small appliances! I moved my food around in my pantry and made room for more small appliances on the shelves. It's great to see them at eye level, instead of stored under my counter like I used to have them.
I hope you enjoyed these kitchen organizing ideas and cabinet storage inspiration!
Want To See More of My New Modern Farmhouse Kitchen?
> CLICK HERE < to take the full tour of my new kitchen!
See more details of my organized kitchen cabinets –> here.
You might also like these Kitchen Cabinet Tips
Whether you are choosing to upgrade a few things or remodeling your entire kitchen, these handy tips for how to choose kitchen cabinets will get you started without stressing out.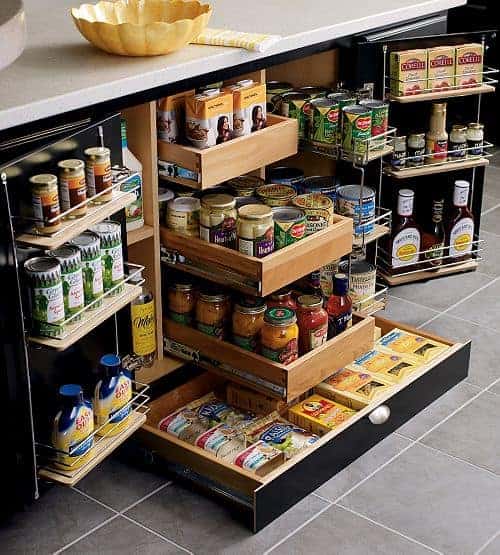 Originally published on February 9, 2017