Beautiful backyard home decor inspiration for hanging porch swing beds. Creative swing bed ideas for your home, backyard or garden. This is definitely outdoor entertaining at it's best!
15 Beautiful Hanging Porch Swing Beds
Nothing says relaxation more than a hanging swing bed! Whether it's enjoying an afternoon nap in the sun, reading a good book with a glass of wine, or simply sitting and taking in nature across your backyard, adding a swing bed to your outdoor living space is the perfect way to enjoy all that the outdoors have to offer.
We absolutely love porches and totally hooked on swing beds and hanging porch beds!
Swing beds are my new obsession. I see them everywhere now and dream of having a nice front porch to hang one. Unfortunately, I don't have a pretty wrap around porch, but I do have a great backyard.
Even without a porch, these hanging beds would be wonderful inside any room or in your yard. You could add one to an arbor on your patio or backyard. Even put one in a bedroom. There are so many great places to hang a swinging bed!
More Outdoor Home Decor Ideas You Might Love
Backyard Porch Swing Inspiration
Check out our Favorite backyard and porch swing beds. Some of these you can buy now or make yourself with directions. Just follow the links to find out more details about each swing bed.
I hope to have a hanging bed of my own to show you someday. Enjoy these inspiring ideas for your home!
15 Beautiful Swing Beds for Your Home
From classic white accents to tropical inspired designs, there are lots of beautiful options out there for you make this dreamy addition to your home.
1. Rustic Porch Swing Bed
A rustic hanging porch bed is always gorgeous! I want to be her right now! Photo via Coastal Living
2. Classic Swing Bed
This classic swing bed is a beauty! You can find one similar here on Amazon. I love the blue and yellow throw pillows. Find similar pillows here.
Shop Similar Items:
3. Ranch Style Hanging Bed
Rachel Halvorson designed this beautiful ranch style hanging swing bed for country musician Ronnie Dunn.
4. Hammock Porch Bed
When you don't have a place to hang a bed, this gorgeous swinging hammock style bed with canopy is perfect! –> Get this bed here.
5. Decorative Porch Swing Rope
You can buy a beautiful hanging rope to replace the usual porch swing chain. Or get creative with a rope design to hide your porch swing chain similar to this gorgeous hanging porch bed! via Southern Living, photo by Laury W. Glenn.
Shop Similar Swinging Bed Ropes:
6. Tuscany Style Swing Bed
This is a lovely hanging swing porch bed with ropes via Pottery Barn. They no longer sell this one, but you can find one similar here.
Shop Similar Items:
7. Traditional Porch Swing Bed
A traditional porch swing transformed into a large bed with ropes in place of chains is a gorgeous addition to any home! –>Get this porch bed here.
8. Playroom Swing Bed
What a wonderful play space with a beautiful hanging porch bed. Photo via Apartment Therapy
9. Picket Fence Porch Bed
I found this handmade bed from Bedzz Without Legzz. (Their link no longer works, so I guess they don't make them anymore… too bad!) I love the fence headboard. This would be fun to make!
10. Portable Backyard Swing Bed
This is another fun portable bed for your yard or patio. Find it here. I love how it lays totally flat from a porch swing and will fit up to 2-3 people.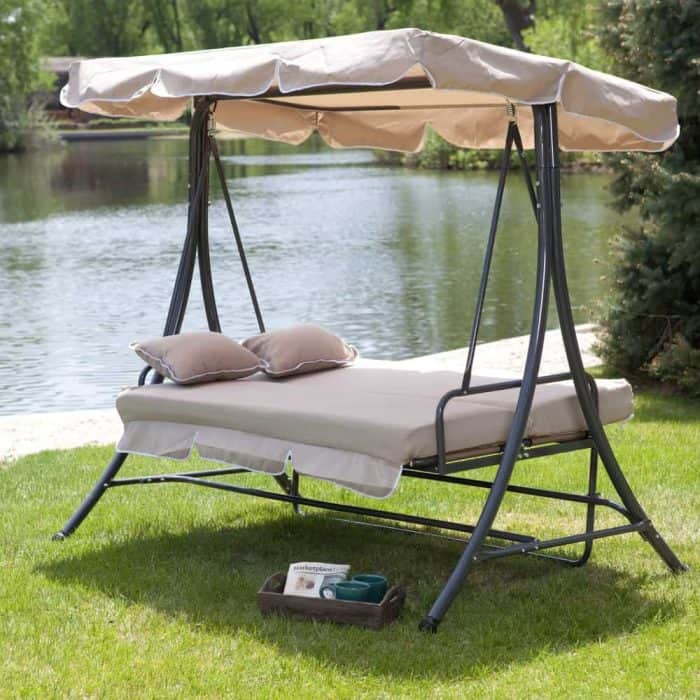 11. Bright Swing Bed
I love the fun bright colors of this hanging bed. Photo via Apartment Therapy. Love this style for your patio? I found some colorful pillows here, here and here. They are so fun and festive!
12. Hanging Swing Bed from Pallets
This DIY hanging bed made with a pallet is so fun! Get directions here.
13. Hammock Porch Swing
A hammock porch swing is not really a bed, but it's so comfortable you can sleep in one! –> Find a hammock porch swing here.
14. Incredible Outdoor Daybed with Canopy
One of my all time favorite outdoor beds is a daybed! This is not a hanging bed, but I'll take it! Find something similar here.
How do you Build a Swing Bed?
Are you ready to build your own hanging swing bed for your outdoor living space? Here are a few great tutorials to help you get started.
For our 15th inspiration, get instructions on how to make a hanging swing bed similar to this at Better Homes and Gardens.
Which Hanging Swing Bed is Your Favorite?
I'm all about the pink one, but would take them all! Don't miss this amazing before and after Bathroom Cabinet Makeover!
Tree House Porch
You might also like my Tree House Porch Makeover. Check out how a little paint can make a big difference!