These 48 Free Printable Dinner Conversation Starter Cards are perfect for family meals or dinner parties! Family meal time is a the perfect opportunity to discuss what is happening with life and make memories with your family.
48 Printable Dinner Conversation Starter Cards
Do things feel quiet in your house lately? Get people talking with these fun Free Printable Conversation Starter Cards! They are perfect for your next family dinner.
Who doesn't love an easy and delicious meal plan? I'm happy that Ristorante's pizza is available to make that happen!
Their pizza tastes about as close as you can get to homemade (you'd never guess it was frozen), and it comes in nine different gourmet flavors. You'll see just how good it looks in my photos here.
Whether you're hosting a dinner party with friends, enjoying a simple dessert, or finally sitting down to a family meal after a hectic summer, this yummy pizza and free printable conversations starter cards are perfect!
Why You'll Love These Dinner Conversation Cards
Dinner conversation starter cards are simple to print, cut and have handy for any meal! I've got 48 cards to keep you busy for many meals.
It's so much fun to draw a card and find out the answers from your family and guests!
How do you start a dinner conversation?
Sometimes it's hard to get conversations going, but not with these fun questions!
One of my favorite questions to ask at dinner is, if you had to be trapped in a TV Show, which one would it be and why?
As a kid, I used to dream about being on Fantasy Island and having different fantasies come true each week. I'd have to say that is where I would want to be trapped! Plus, the 70's style was pretty fun and I love to disco dance. ha!
I bet my kids would answer Full House. I swear… that is on our TV all of the time around here.
Grab some pizza, salad and conversation starter cards below to have a fun and simple night in!
Download this Free Printable
Sign up to get a 1 Month free membership to the Living Locurto Free Printable Library! Click here or the button below for this printable and more!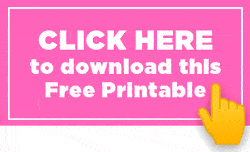 Enjoy! ©2020 LivingLocurto.com
This is a sponsored post on behalf of Dr. Oetker USA LLC. I received compensation for this post; however, all opinions stated are my own.