Cute Minions Party Ideas! Celebrate with these homemade crafts and fun food ideas for a Minions or Despicable Me Minion Themed Birthday Party.
Enjoy these cute and easy DIY Minions Party Ideas!
With the new Minions movie, now is the perfect time to host a Minion Themed Birthday Party or a backyard celebration with a few friends! As you have probably noticed those banana loving Minions are everywhere. To celebrate the movie, I've partnered with Universal Pictures to bring you some adorable Minions Party Ideas.
We always have a lot of fun planning my daughter's birthday parties. Ever since we went to Universal Orlando last summer, she has absolutely LOVED the Minions! Meeting one in real life was magical, especially when they are practically your same size and ultra goofy!
As you can probably guess, Siena's birthday party theme is Minions this year! I'm excited to share some ideas for a simple Minions themed party that anyone can do in no time!
I've got an easy DIY Minions homemade craft that is perfect for party decor or a summer activity with kids, along with fun party food ideas and activities.
We hope you love these Minions Party Ideas! We'll be counting down the days until the movie comes out!
Simple & Cute Minions Party Ideas
Decorating for a party can be simple and easy with a few party supplies! I like to start by choosing two color schemes and in the case of the Minions, using yellow and blue is a no brainer. Instead of navy, I chose a brighter turquoise blue which was easy to find in stores with all of the cute summer party supplies out right now.
Be sure to scroll down to get the full list of items I used for this party.
Cute Minion Cupcakes & Party Food
Instead of a cake, we did bright yellow cupcakes. These are about the simplest cupcakes you can do, plus each child gets a fun Minion party favor! How adorable are these little Minions from the movie?
In the movie, Minions begin at the dawn of time. Starting as single-celled yellow organisms, they evolve through the ages, serving the most despicable of masters.
These cute little cupcake toppers are Mega Bloks figurines. To create height on the table, I placed the plate of cupcakes on a Minion box that I found at Michaels.
My kids had a blast building the Minion Mega Bloks so I could use them for party decor.
You could do all kinds of Minion themed treats! Since we were going swimming and this was a small backyard bash, I just served bananas (because they are the Minion's favorite!) cookies, juice and popcorn.
My Minions Candy Spoons would be adorable too! Get directions on how to make them here.
Easy Homemade Minions Craft
I made this cute Minion out of felt for the backdrop of our dessert table. It is a quick and easy DIY idea and would also be adorable for a party craft activity!
What you need: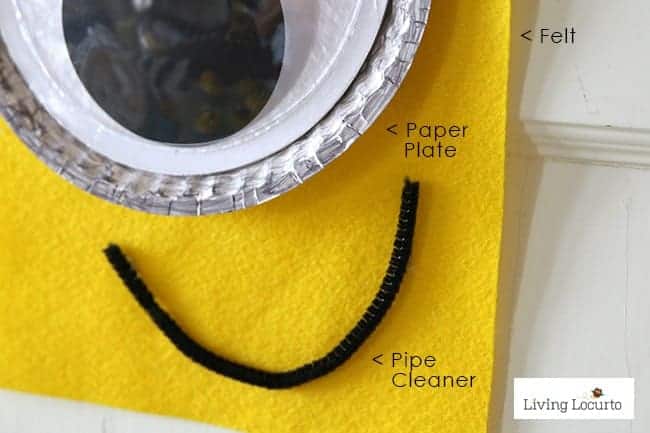 Minion Craft Directions:
Use scissors to cut curved edges on the top of each side of the felt to create your Minion body shape.
Color the edges of a paper plate with a gray marker for the Minion's glasses. You can skip the coloring by using a gray or silver paper plate.
Glue the googly eye to the plate.
Take 2 pipe cleaners and make a circle slightly smaller than the plate. Cut another pipe cleaner in half and attach one to each side of the circle to make the glasses. Then hot glue the plate to the circle part of the pipe cleaner.
Attach the Minion eye glasses to the felt with more glue and gently wrap the pipe cleaners around the side of the felt.
Make a smile from a pipe cleaner and attach the mouth with glue.
Cut a few pieces of pipe cleaner and attach to the top of the felt piece for the hair. Get creative on this! You could do all kinds of cute Minions hairstyles.
That's it! Hang one or many around for party decor.
Minion Party Favors and Activities
Since it's summer, our party activity is swimming! There are so many adorable Minion Party Supplies. We love the cute Minions beach towels and totes that are perfect for party favors.
The Minions Play-Doh Disguise Lab is adorable to have out for a party activity – especially to keep the kids busy until the party fun begins! We also love the Color Wonder Minions Puzzle. That has kept my daughter entertained for several days this summer!
We hope you enjoyed these Minions Party Ideas! Have fun at the movie this weekend!!
Party Supplies & Links:
You might also like these cute Minons Party Ideas:
This is a sponsored post by Universal Pictures. All opinions are my own.