DIY Christmas Advent Calendar Free Printable. Personalize it before printing with editable days. Choose from several designs such as Santa, Nativity or Star Wars themes. This is such a fun Holiday paper craft!
Free Printable Christmas Advent Calendar You Can Customize
It's Advent Calendar time and I hope you love my Free Printable Christmas Advent calendar. Choose from 3 fun designs and edit before you print!
Because I'm a huge procrastinator, all of the LEGO Advent calendars were sold out. I made a trip to the mall and then called 7 stores… yes… all sold out! Who knew I should have bought them back in April? With the start of December upon us, I was forced to make my own.
With some pieces of scrapbook paper, I was very happy with my non-LEGO version, plus I saved $50!
These DIY Advent Calendars are SUPER easy to make (oh and I mentioned cheap right?) and it's not too late to make one yourself. They were so easy that I even made one for each kid.
Take that procrastination!
Actually, they are even more easy for you, because I designed them for you!
Free Printable Advent Calendar
All you need to do is think of what little treats your kids will get each day. This free printable design is customizable, so you can either keep what I have typed, or re-type your own treats.
As you can see below, my daughter is really into money, candy and crafts! So unless your kids are obsessed with quarters, you'll probably want type your own. ha!
I printed the little treats on the back of scrapbook paper and the circles on sticker paper.
You can choose from three banners.
1. Santa. – My daughter wanted Tinkerbell, but too bad, so sad, she got Santa.
2. A nativity scene. (I found this pretty graphic over at The Graphics Fairy)
3. Star Wars. For Star Wars fans out there, this one's for you! (Graphic found via Starwars.com)
You might also enjoy These Printables:

Download the Christmas Advent Calendar
Download the free printable Christmas Advent Calendar below. Instructions are included. Please share photos of your calendars on Instagram. Tag me at @LivingLocurto and use the hashtag #LivingLocurto so I can share. Enjoy!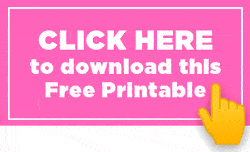 (Right click the link above to download to your desktop. Mac users, hold down your control key.)
You will need the latest version of the free Adobe Acrobat Reader. All files are ©LivingLocurto.com, non-commercial and for personal use only. Please read the terms of use here.
Originally published December 1, 2010 – Updated November 2021