Fall is near and the parties have already begun!
Not only are you invited to my first ever Halloween Blog Party, but also invited to join Melissa at the Inspired Room for Fall Nesting Week!
I'm excited to participate in Melissa's Fall Nesting Week. There are some great ideas on her site. I don't want to give away all of my Halloween ideas just yet, so here are some photos that make me happy and I hope will inspire you to get ready for the upcoming season.
Easy Centerpiece
I love antique glasses! You could use any type of pretty glassses, small vases and plates. I need to get some green candles though. I just whipped this together tonight! I have loads of candy corn. It's my favorite Halloween decor!! The small turkeys are mini salt and pepper shakers.
Outdoor Fall Garden Inspiration
I hope you enjoy my garden as much as me!
Just kidding!!!! I only wish that was my garden. ha! This is just a tiny section of our beautiful Dallas Arboretum. My garden is great, but missing rows of pumpkins and basically blooming flowers right now:-( Check back in a few weeks, I might just get it looking like this.
Favorite Rituals
In Texas, we don't get "real" fall weather until Thanksgiving. I have a leaf jumping party for the kids in December! Besides our Halloween party, leaf jumping is my other favorite ritual.
Halloween Fun
What a spooktacular tree! I took this photo at my favorite local pumpkin patch.
A pumpkin house! What will they think of next?
Babies and pumpkins always make me happy! My baby girl at 1 month old.
The same spot at 1 year old! Look at all that orange! Are you ready for fall now?
My cat, Rocky Balboa, loves getting in on the Halloween spirit and can't wait to see you at the blog party!
Did you participate in Fall Nesting Week? If you so, please leave a comment. I'd love to meet you!!
October 22-31st
Like my Halloween Invite? It's a photo of my party table a few years ago. The cookie cake was a big hit!
•
Living Locurto …. the ramblings of a creative mom.
Want a peek into my world? Read this.
•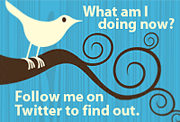 Want to see what I just did to my front porch? Click here for more Fall inspiration.
Join my Halloween Blog Party and have a chance to win fun prizes!!!
Every Friday is "Feature Friday" where I highlight something extra special!
Originally published on September 3, 2008. Last Updated on April 18, 2019 by Amy Locurto