I'm loving gold decor for the holiday season as it goes well for both Thanksgiving and Christmas. Today, we're sharing a simple DIY Fall Ribbon Wreath you can easily make yourself.
Craft the gold base of the wreath, then all you have to do is change out your decor to match the season! You will have a beautiful gold wreath in no time that looks like something you would buy in a fancy boutique.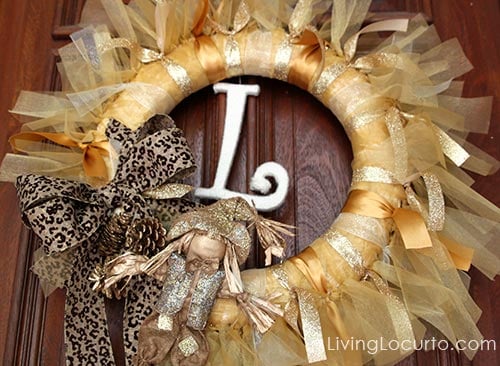 What you'll need:
Sparkly Gold Tulle – Cut into 20″ Long Strips
Gold Glitter Ribbon – Cut into 20″ Long Strips
Gold Satin Ribbon – Cut into 20″ Long Strips
Wooden Letter
Yarn
Fall Decor to attach to your wreath such as pine cones, small scarecrow, plastic leaves or flowers.
Gold Glitter
Hot Glue Gun
Scissors
To add the ribbon around the wreath, just simply make sure the ribbon is even on both sides and tie a knot. Start with one of the plain wider ribbons around the whole wreath first as a base, then fill in with the glitter and shiny ribbon in a pattern around the whole wreath. This will help make sure the wreath looks even.
After covering your wreath with the ribbon, add a large bow to the bottom.
Repurpose a
knickknack with Gold Paint and Glitter!
Whatever fall items you have around your house can be transformed with paint! With a little gold spray paint, glue or Mod Podge and a sprinkle of glitter, you can turn something plain into spectacular!
This little scarecrow was easy to glam up by spray painting it gold.
After the paint dried, we painted Mod Podge over his vest, hat and pant patches, then sprinkled glitter over those areas.
In about 10 minutes, you'll have a unique fall decoration that you can add to a wreath!
This can be removed later when it's time to add something Christmas related instead.
Do the same thing with anything! Pine cones are great to spray paint and glitter.
Yarn Letter Craft
Another fun idea for a wreath is to personalize it with a letter. We used a wooden letter and yarn for our letter.
By simply wrapping a wooden letter with yarn you can give it a whole new look.
Start at one end and tightly wrap the yarn around that end. You will have to use hot glue and tack it down every so often to keep it in place. You may also have to cut the yarn and start a new strand to get around the curves.
Hang it in the middle of the wreath or add directly to the wreath towards the bottom. Since my door was dark wood, I liked how it stood out inside the wreath best.