I am so excited to introduce Nancy Pfeifer from A to Zebra Celebrations!
Nancy is a talented mom and party planner from Arizona. I met Nancy this summer and we discussed her helping me as a contributor here at Living Locurto. Well, I'm happy to announce, we finally got back in touch and Nancy has joined the creative team!
She'll impress you with her creative ideas like this amazing Toy Drive Christmas Party she hosted for her kids. I love the scrapbook paper backdrop she made. Such a simple idea that makes a big impact!
I love all of the sweet treats and party favors. Adorable!!
Visit Nancy's blog for more details on this gorgeous party. You won't be sorry!
Now I'll let Nancy tell you a little about herself. I look forward to working with you Nancy!!! Yay!
Hi! I'm Nancy, and so excited to be a part of Living Locurto!!
I am the founder of A to Zebra Celebrations. I am happily married to a wonderful man for 10 years. I'm a stay at home mommy to two lovely little girls: Ashley, who is six, and little sister Hannah, who is four. I love planning parties for my daughters.
In the fall of 2009, after organizing my oldest's zebra party, I brought A to Zebra Celebrations to life. My passion for parties and entertaining started when I was a little girl.
Almost two years later, I created MyPartyIsOver.com for everyone who loves to recycle and reuse party decor!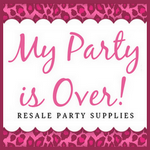 You spent a lot of time and money planning your party, wedding, baptism, graduation, baby shower, etc…The party is over and you have tons of decorations and supplies you are probably going to store in a box and never use again. Now you have a website to sell all your party items!
If you are a party lover, or event planner, you'll enjoy a place to sell or shop bargains for your next celebration!
Thanks Nancy! We can't wait to see your creative ideas.
Welcome Nancy to the team by "liking" her on Facebook and saying hello.
[ad#Google Ad- 200 image]