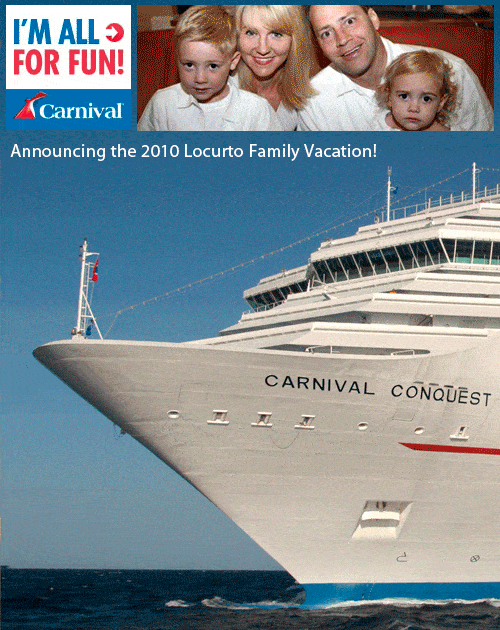 Oh yes!!!
Our first family vacation together with just the four of us and look at what we get to do!! Courtesy of the folks at Carnival! WHOOT! Can you believe that? I'm super excited to be chosen as a Brand Ambassador for Carnival. This is a first for me, both being a blog brand ambassador and going on a cruise. So I'm very excited to share the fun news! To be honest, I'm still in shock over it.
We're sailing this Sunday from Galveston on the Carnival Conquest. It's a seven-day Eastern Caribbean "Fun Cruise" that visits Montego Bay, Grand Cayman, and Cozumel. As a brand ambassador, I'll be blogging about my trip. (I know… real tough work huh?? LOL!) Carnival has been so helpful answering my gazillion questions about cruising. I can't wait to take some beautiful photos and share my stories with you. We will be celebrating my daughter's 4th birthday on the ship as well! She's so excited! Shhhh…. I got her a Hello Kitty camera so we can all go on a cruise ship photo safari together.
Goodies for you!
Because I'll be gone next week, I've lined up some GREAT guest bloggers who will be providing you with the most incredible FREE Printables. I can't wait to post these amazing freebies! YAY! We'll all be getting a treat next week. Mine is just a little more elaborate. hee!
P.S.- That is SO not my hair in the photo above! I just pictured myself as Bo Derek for a moment. Maybe I'll get some braids in Jamaica?
I won't be blogging much while on the ship, but I will be posting on Facebook and Twitter! Be sure to follow my adventures. I'm sure there will be some silly stories.
You can also follow Carnival for the latest news and discounts.
Carnival on Twitter @CarnivalCruise
Join them on Facebook at www.facebook.com/carnival
Funville – Carnival's online community- offers blogs from cruise directors, videos and pictures and message boards.
Did you know?
Carnival is the largest and most popular cruise line in the world, with 22 "Fun Ships" operating voyages to the Bahamas, Caribbean, Mexico, Alaska, Hawaii, New England, Canada, Bermuda and Europe. The line has two new 130,000-ton ships scheduled to enter service – Carnival Magic set to debut May 1, 2011 and Carnival Breeze, slated for delivery in spring 2012.
Have you been on a cruise? Have any advice for me?
[ad#Google Ad- 200 image]
Disclosure: This seven day cruise and one off shore excursion is being paid for by Carnival. All opinions and photos about the trip will be my own. Thanks Carnival!