Tron Birthday Party printables including cupcake toppers and goodie bag tags. Download and print for free for the perfect Tron party!
Throwing a Tron birthday party? Here are some great party ideas and free printables to help plan your party!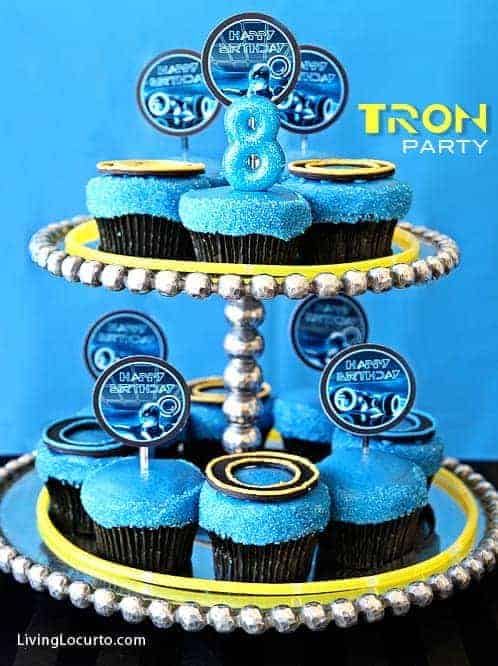 We recently rewatched the movie Tron on Disney+Disney+ and I remembered how much my son loved Tron when he was younger. I even threw him a Tron party for his 8th birthday but had a hard time finding supplies.
So I came up with my own Tron printables and creative party ideas. My son is off to college soon, but I think he would still love a party like this.
Dessert Ideas For a Tron Birthday Party
Stick to Tron colors like blue and black with glowing yellows.
Use neon blue frosting and sprinkles for cake frosting.
Use cookies outlined with neon yellow and blue to top the cupcakes
Download my free cupcake topper printable and attach to glow sticks.
Tron is All About Neon Fun!
Glow stick bracelets under glass dishes made for perfect cupcake stands! I really love how these turned out.
But the best part was the neon blue cake! All the kids had bright blue tongues. It was pretty funny!
Looking for Tron Actitivy Ideas?
The perfect activity for a has got to be laser tag! Watching the party guests run around in the laser tag place was really like being on the grid!
Looking for Free Tron Party Printables?
When it came to planning the party, it was hard to find Tron-themed supplies. So I made my own!
Download These Free Tron Printables For Your Party
Other Tron Birthday Party Ideas You Might Like:
These figures were a part of a printable playset, but I cut them out and taped them to silver twist ties for cupcake toppers instead.
Find Tron party invitations online. Unfortunately, the ones I used years ago are no longer available.


You might also like:
Originally posted February 22, 2011-Updated July 2021