One of my favorite artists, Vanessa at Fanciful Twist, is having a Magical Halloween Party!! Yippee!
I'm also excited to be kicking off my Halloween Blog Party Sunday the 19th @ 8 pm Central Time!!

We will be parting for 13 spooky days! Be sure to come back tomorrow to add your site to Mr. Linky for chances to win some fun prizes on October 31st.
••••••••••
Today, my cat Mr. Rocky Balboa will be taking you on a tour of my haunted house. He's wearing his Halloween cape just for you. Black cats love Halloween you know!
Come on in, Rocky is waiting…
Rocky will perform his black cat magic to transform this room into something spooktacular…
Ta Da!!
So much for my Halloween cat, I think the rat on the table scared him away!
Meet my Great Great Grandfather Col. Mustard.
The kid's eye ball collection. If it gets any larger, we'll have to get a new jar.
Want to stay for dinner? Help yourself to the boo-fett.
Make something frightful for your own boo-fett. Try this with a small seedless watermelon.
1. Use a vegetable peeler to remove the entire green rind, exposing the inner white rind.
2. Slice off the bottom of the melon to create a flat base that will keep it from rolling. With a toothpick, outline squiggly furrows that resemble the folded surface of a brain.
3. Finally, carve narrow channels along the tracings with a sharp paring knife (a parent's job) to expose the pink fruit beneath the rind.
via FamilyFun Magazine
Thanks for taking my spooky home tour! Now head on over to Fanciful Twist to join in on the fun.
Don't forget to come back for my Halloween Party! Kick off time – 8 pm Central time, October 19th.
New here?
If so, thanks for stopping by!
I hope to inspire creativity with my blog. I like to showcase crafts, decorating and party ideas. I also provide FREE downloads of my original art. Life to me is about family, creativity and having fun!
Living Locurto …. the ramblings of a creative mom.
Want to see what fun I've been having lately? Read about my pumpkin party!

•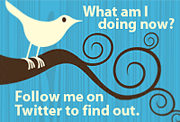 Click below to subscribe to Living Locurto.