Home with the kids now? Stay organized at home with a free printable weekly calendar for the school week! This bright colored free printable calendar is perfect for kids to keep track of what they need to do during homeschool.
Printable Weekly Calendar for Kids
It's always a struggle for me to keep up with it all, so I designed this free printable weekly calendar to make it easy for my kids to help me out!
Keeping my kids on a daily and weekly schedule is very important. Use these printable calendars to stay organized all year long. Free printables are especially great for when you are home during the summer months as well as the school season.
I designed a fun weekly calendar for each child and placed them in a frame.
You can write on the glass and easily erase to start over each week. The flags are perfect for reminding everyone of what is the most important!
Use Calendars in Frames or a 3 Ring Binder
These printable weekly calendars are perfect for printing and placing into a 3 ring binder as well as frames! You can do a frame for each child or put two calendars into one big frame.
I used clear plastic cups to hold dry erase markers and Post-It products to update the calendars each week with the latest activities.
DIY School Station
With these free printable calendars and a few items that I already had in my home, I was able to turn what was once an area where I hung my purses, to an organized school station for the kids!
I found some fun office supplies and decided to use them in my school station along with the weekly calendar that the kids can update themselves!
Plus, having a weekly calendar is also fun for the kids to do! My daughter has always loved to stay organized with stickers.
Click Here –> to learn how to print on Post-it notes!
Download the Free Printable Weekly Calendars
Enjoy my weekly calendars. I can't wait to see how you use these printables.
Sign up to get a 1 Month free membership to the Living Locurto Free Printable Library! Click here or the button below for this printable and more!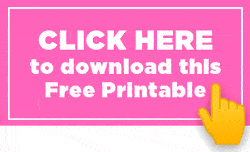 Originally Published August 1, 2013
Have fun getting organized!
Please share your school and homeschool ideas on my Facebook Page or tag me on Instagram. I would love to see what you do with these printables!