This easy Peanut Butter Board Wreath is a creative spin on the butter board food trend.
A fall themed snack board with peanut butter, chocolate chips, candy and chopped nuts is the perfect party food for a dessert table, movie night or holiday gathering.
Learn how to make a Peanut Butter Board Wreath this holiday season that will wow your guests!
Everyone Will Love This Peanut Butter Board Wreath
This Peanut Butter Board Wreath is my fun take on the butter board food trend. A fall themed dip snack board with chocolate chips, candy and nuts is perfect for a party, movie night snack or holiday gathering.
I love the holidays, but don't always love all the hassle that comes with them. Decorating my house and cooking for a crowd can be really time consuming and stressful.
This year, I'm trying to simplify things by making a peanut butter board wreath appetizer, which is simply peanut butter dip served on a large wooden charcuterie board.
This simple dessert board recipe shaped into a wreath is easy to make and looks adorable! Plus, it's a snack that everyone can enjoy. Everyone will love this creative fall party appetizer!
Why You'll Love a Peanut Butter Board
If you're looking for a unique fall party appetizer or snack this holiday season, give this simple recipe a try!
Making party food for a crowd takes time, but this is actually easy to make.
It's an easy recipe idea for the charcuterie board that you might never use.
The combination of peanut butter and chocolate tastes so good.
Enjoy dessert toppings or the favorite snack of your choice.
You'll save time since there is no need to mix or bake a thing.
Ingredients can be prepared ahead so the board is fast to put on your table.
A peanut butter board with chocolate chips, Reese's Pieces and chopped nuts would be perfect for a Halloween party, fall gathering or Thanksgiving. This so easy, anyone can make this tasty dessert board in minutes!
Butter Board Trend
If you haven't heard, the butter board is the latest food trend that is currently taking over the charcuterie board popularity.
Not a fan of butter? Try this easy take on the butter board trend where I use peanut butter instead.
This recipe is similar to a charcuterie dessert board, but with peanut butter as your base for one giant dip!
RECOMMENDED WOODEN BOARDS FOR CHARCTUERIE
How to make a Peanut Butter Board Wreath
Prepare your cutting board: Prep your board with oil (see notes below).
Start with the first layer: Peanut Butter is simple to spread into a wreath shape.
Add toppings: Sprinkle peanut butter with various toppings. (per the recipe below)
Decorate: Add holiday snacks and candy that coordinate with the holidays or party occasion.
Assemble Table: Place parchment paper around your board to protect your serving table. Place the snacks you'll be serving with the peanut butter dip onto the paper.
Clean Party Table: Cut off the extra parchment paper that you don't want to show and clean up all crumbs.
Serve: Gather plates, napkins and serving knifes so your guests enjoy!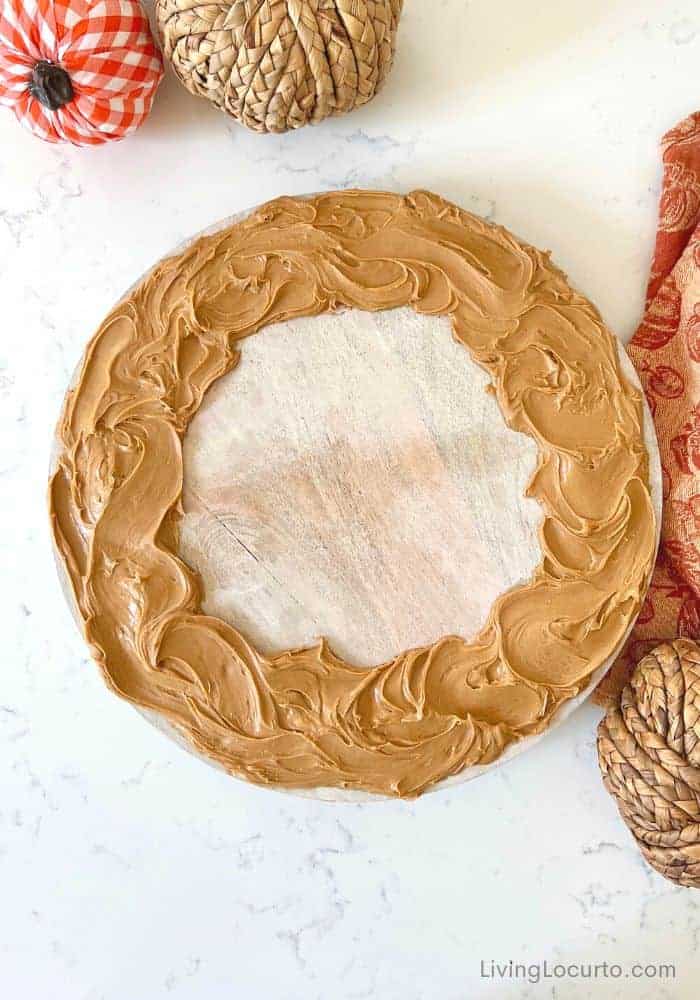 Snack Ideas for Dipping into a Peanut Butter Board
Dip bread, crackers, cookies, pretzels, fruit and more of your favorite things into this tasty peanut butter board. Here are some of our favorites!
Bread
Pretzels
Brownie Bites
Crackers
Bananas
Apples
Banana chips
Graham crackers
FAQ
What is a butter board?
The butter board is a food trend that started on Tiktok in the fall of 2022. Creator Justine Doiron had millions of views in a few days with her butter board recipe which is a board slathered with softened butter then topped with salt, lemon zest and edible flowers.
What do you serve with a butter board board?
Butter boards are typically served with bread, which guests are supposed to dip into the butter. You can of course use anything you like when serving this recipe! That's the fun part about savory or dessert boards.
How do you treat a wooden cutting board before use?
Cutting board oil will keep your wooden board from absorbing moisture and cracking. You want to make sure to use a food-safe mineral oil.
First, clean and dry your board thoroughly before oiling, then use a paper towel to spread evenly over the entire board. Let soak in overnight then wipe off any excess remaining.
You'll also love these fall party boards:
Peanut Butter Board Wreath
A Peanut Butter Board Wreath is a fun twist on the butter board food trend. A fall themed dessert board with chocolate chips, candy and nuts is a creative party appetizer, movie night snack or holiday gathering.
Ingredients
Serving Suggestions for Peanut Butter Board
Bread

Pretzels

Brownie bites

Crackers

Bananas

Apples

Banana chips

Graham crackers
Instructions
Spread Peanut Butter onto board to create a wreath shape.

Sprinkle chocolate chips, candy and nuts around the peanut butter to make a pattern.

For extra fall decoration, line the inside of the wreath circle with candy pumpkins.

Place pretzel sticks between each topping.

Serve with your choice of dipping food such as bread, crackers, fruit and cookies!
Notes
If using a wooden board, be sure to treat it with oil before making this butter board. (Directions in post.) You can also place parchment paper onto your board before adding the peanut butter.
CLICK HERE -> To Leave a Comment
Nutrition
Calories:
473
kcal
|
Carbohydrates:
30
g
|
Protein:
13
g
|
Fat:
36
g
|
Saturated Fat:
10
g
|
Polyunsaturated Fat:
8
g
|
Monounsaturated Fat:
15
g
|
Trans Fat:
0.03
g
|
Cholesterol:
2
mg
|
Sodium:
225
mg
|
Potassium:
336
mg
|
Fiber:
4
g
|
Sugar:
23
g
|
Vitamin A:
39
IU
|
Vitamin C:
0.2
mg
|
Calcium:
56
mg
|
Iron:
1
mg