With Halloween near and Juicy Juice teaming up with Monsters University, monsters are on our brains! So of course I made that the theme of our craft time at my daughter's slumber party with a friend this weekend.
With cute Monsters University Juicy Juice boxes, and funny donuts from my neighborhood bakery for inspiration, the girls got to crafting! Aren't these treats cute? You could easily make them out of sugar cookies too.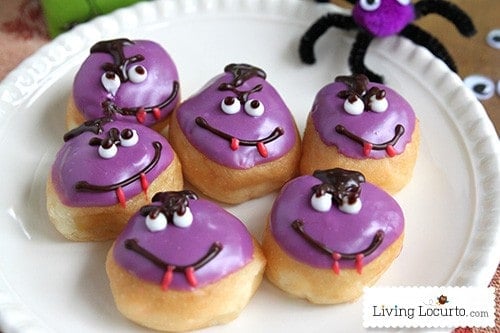 Juicy Juice sent us a big box of craft supplies. Then to add to the fun, I brought out mini goodie bags for making puppets. It's always fun to see what the girls come up with!
Monster Finger Puppets
My kids LOVE Terry & Terri from Monsters University, so we made goofy Terry & Terri finger puppets out of pipe cleaners and googly eyes.
Pipe cleaners are one of my favorite supplies for kids crafts. Try making all kinds of silly finger puppets. It's super fun!
We also made paper bag monster hand puppets. The possibilities are endless with puppets and the kids loved making them!
We even made monster goodie bags and purses!
Thanks to Juicy Juice for the great craft supplies. We can never have enough!
What a fun day of crafting!
This post was sponsored by Juicy Juice. More information about Juicy Juice products can be found on JuicyJuice.com.
Originally published on September 30, 2013. Last Updated on April 18, 2019 by Amy Locurto