Want help with ideas on how to travel cheap? Check out these 4 simple tips to save money on travel. Money saving tips for Disney World, Universal Orlando and other family vacations!
Easy Ways to Save Money on Travel
Simple Money Saving Tips on Travel to Disney, Universal Orlando, how to find cheap flights and more!
We love to travel and have been all over the world! What's even better is when we can save money on travel, so we can take more trips later.
People always ask me for travel tips and ideas for saving money on family vacations, so I am happy to share some ideas with you today.
We have used these tips when traveling to beaches, theme parks, national parks, and cities.
With so many great online tools to save money these days, travel can always be done on a budget. It just takes a few simple money saving tips and time!
I will keep adding helpful websites and tips to save money on travel to this article as discover new ones.
For now, here are my favorite tools for traveling cheap along with some time and money saving tips that will make you jump for joy the next time you plan a vacation!
4 Money Saving Tips for Travel
1. Be Smarter When Searching for Cheap Flights
Airfare is often the most expensive part of travel, especially if you have a large family. Driving is not an option to many places I like to visit, so flying it is! Here are a few ways I save money on flights:
Plan Ahead
Finding the best deals on travel takes time. I feel like a private detective digging into the internet to find the best deals when I plan our vacations.
Now I save a ton of time by using Airfarewatchdog for flights and hotels. It's super easy to compare airfare prices on various websites all at once with Airfarewatchdog.
My favorite feature of this website is you can set a low fare alert to get an email when the prices go down! If you type in your destination and dates, then scroll down the page, you will see suggested dates for the best time to travel.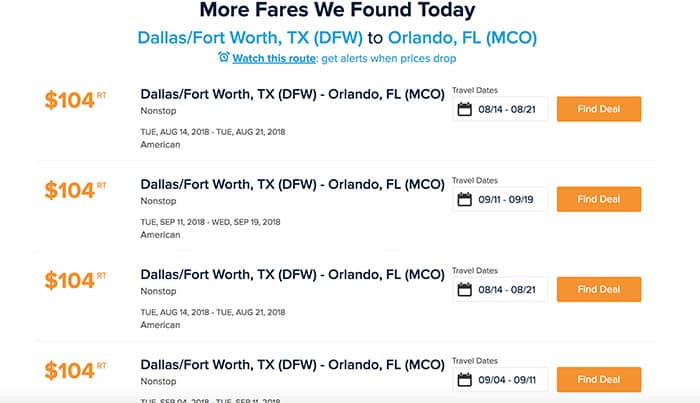 Airfarewatchdog is awesome and searches for both airfare and hotel sites like Hotels.com, Expedia, Priceline and Orbitz all at once which saves a ton of time.
Be Flexible
Being flexible is a great way to travel cheap! When I feel spontaneous to travel somewhere for a long weekend and not sure where I want to go, I love using Google flights.
You can enter your home airport, enter your travel dates, leave the destination blank, then click the map to see what flight prices are for any city on the map.
Narrow down your search by stops, price, times, or airline.
When I entered some dates for this summer from Dallas, non-stop under $200 this is what I found. I think the beach is calling me to San Diego or Ft. Lauderdale with these flights!
2. Compare Theme Park Ticket Options
When planning a trip to a theme park, do your research and compare prices for annual passes vs daily tickets.
I just got annual passes to Universal Orlando because it saved me money on our 3 day park ticket preferences! We got extra perks such as discounts at stores and restaurants, plus we could be much more flexible on the days we visited the park.
It also made sense, because I feel like we are in Orlando several times a year. Now we can pop over to the park anytime we are in town!
3. Pack Your Own Drinks and Snacks
I really need to be better at doing this. It's a no brainer that you will save money at hotels if you have snacks in your room, especially if you travel with teenagers.
I have friends who will pack an entire suitcase with food when flying to expensive destinations. Then fill the suitcase with dirty clothes for the trip home!
Just remember if you travel to tropical islands or southern states, pack things that won't melt.
Another great idea if you can't get to a grocery store to fill up your mini fridge with drinks and snacks, order online from Amazon Fresh or Instacart. Set the order to be delivered when you arrive.
This way you can get creative and make breakfast in your hotel room yourself.
If you don't trust your kids to not eat and drink the expensive items in hotel rooms, ask the hotel to remove them before you get there.
Did you know most theme parks let you bring snacks?
Disney Food in the Parks Rules:
"Guests are allowed to bring food items—such as snacks or foods that do not require heating—into Disney theme parks." Small ice chests are allowed in Disney Parks, but they have size requirements.
Make sure to read the rules before you bring an ice chest with you. I suggest getting a backpack ice chest to easily carry it all.
Don't buy water at Disney. Both Disneyland and Disney World's counter service restaurants will give you a free cup of water or a free cup of hot water. Ask for a large cup!
Universal Orlando Food in the Park Rules:
Acceptable items: Bottled water (maximum 2 liters), Small snacks, Any food required for special dietary needs, Any food required for medical purposes and medically-indicated nutritional supplements, Baby food/baby formula and Soft-sided insulated bags no larger than 8.5" wide x 6" high x 6" deep.
4. Buy Souvenirs Ahead of Time
We go to theme parks a lot and I save so much money by getting t-shirts, mouse ear hats and trinkets ahead of time online.
This way the kids can use their own money however they want when visiting the parks.
On our last trip to Universal Orlando, my son used his park money on only food and it saved us arguing about me spending $10 on a cookie!!!
Pack a small bag full of dollar store pencils, stickers, lollipops, light up toys, etc with the park theme to hand out at the hotel when you arrive.
Young kids won't know where you got the gifts and think you bought it for them at the park!
Here is a list of popular parks and their themes to help you shop for souvenir gifts ahead of time…
Universal Orlando Themes & Characters
Universal Studios: Minions, Harry Potter, Men in Black, Jimmy Fallon, Shrek, Simpsons, Transformers, Fast & Furious, Revenge of the Mummy, E.T., Sponge Bob, Curious George, Hello Kitty, Scooby Doo
Island of Adventures: Harry Potter, Dr. Seuss, Marvel Comics (Spiderman, Hulk, Captain America, Iron Man, Thor, Black Widow, X-Men, Ant-Man) King Kong, Popeye, Betty Boop
---
Disney Parks Themes & Characters
Magic Kingdom: Mickey Mouse, Minnie Mouse, Donald Duck, Daisy, Goofy, Pluto, Disney Princesses, Finding Nemo, Peter Pan, Dumbo, Pirates of the Caribbean, Aladdin, Winnie the Pooh
Animal Kingdom: Safari Animals, Dinosaurs, Yeti Monster, Avatar
Hollywood Studios: Star Wars, Toy Story, Muppets, Frozen, Little Mermaid, Indiana Jones, Twilight Zone
Epcot: Frozen, Race Cars, Space, Mexico, Norway, China, Germany, Italy, France, Japan, America, Morocco, Canada, United Kingdom
Disneyland: Mickey Mouse, Minnie Mouse, Donald Duck, Daisy, Goofy, Pluto, Disney Princesses, The Nightmare Before Christmas, Star Wars, Peter Pan, Toy Story, Dumbo, Pirates of the Caribbean, Indiana Jones, Winnie the Pooh, Alice in Wonderland
California Adventure: Cars, Toy Story, Black Panther, It's a Bug's Life, Little Mermaid, Finding Nemo, Monsters, Guardians of the Galaxy
---
Other Theme Parks
Six Flags: DC Comics (Batman, Superman, Wonder Woman, Green Lantern) and Looney Toons (Bugs Bunny, Daffy Duck, Tweety, Sylvester, Porky Pig, Tasmanian Devil)
Sea World: Shamu, Sesame Street and ocean inspired
Busch Gardens: Sesame Street, Madagascar, safari and jungle animals
Legoland: LEGO toys
Silver Dollar City: Old fashion toys and candy, mining, wild west inspired
Dollywood: Old fashion toys and candy, black bears, Smokey Mountains inspired
---
I hope you enjoyed these money saving tips for traveling.
How do you save money on vacations?
Let me know in the comments below.
This post contains affiliate referral links to travel partners and Amazon. All come highly recommended by Living Locurto!