Get creative with these 50 Mason Jar crafts and recipes. You'll love these simple and fun gifts, recipes and creative crafts in a jar.
50 Easy Mason Jar Crafts & Recipes
It's time to get creative with Mason jars! Whether you love to host parties, bake, craft or garden, you will enjoy enjoy these 50 creative Mason Jar crafts and recipes! There are so many fun ways to use a Mason jar other than making jam.
I love finding new ways to use jars, especially for a party and gifts. I hope you love these simple and fun recipes, crafts and keepsake gifts.
50 Creative Ideas for Mason Jars
As you scroll down through all of these ideas, I'm sure you find lots of great ideas to try soon!
1. Save vacation memories in a jar.
2. Make hanging lanterns with these easy to install hangers.
3. Use for bookends.
4. Make homemade refrigerator pickles.
5. Add fingernail polish and files for a manicure jar.
6. Make a Mason Jar frame. Turn upside down and insert a photo to make a creative frame.
7. Make cute Rainbow Cookies in a Jar.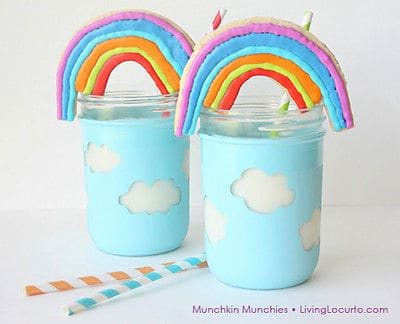 8. Make a succulent planter.
9. Make Sun Tea. – Fill a jar with water, add a tea bag and place in direct sunlight for 30-60 minutes.
10. Learn how to make glow in the dark Galaxy Jars.
11. Organize your bathroom in various ways using jars.
12. Add water and floating candles.
13. Make a Minions Banana Smoothie – This is so cute!
14. Use as a pencil holder.
15. Hold laundry detergent.
16. Serve this delicious Pumpkin Dump Cake with Chocolate for Thanksgiving in mini mason jars.
17. Make a toothbrush holder.
18. Make a hanging planter.
19. Paint adorable gift jars that look like they are from Anthropologie. Learn how here.
20. Plant an herb garden.
21. Use jars for flower vases
22. Add colorful lids for party drinks.
23. Use for girl's hair bows.
25. Use for party drinks – These Margaritas on the go are super fun!
26. Pour and shake glitter paint inside for glitter jars. Great for gifts – learn how to make them here.
27. Make cookies in a jar! Get the recipe and Halloween printable tags here.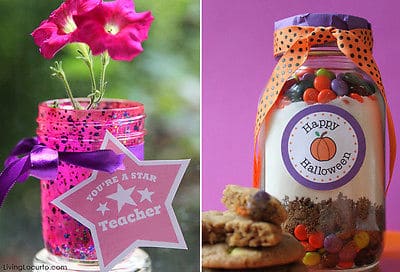 28. Layer cake and icing in a jar for a cute cake presentation.
29. Make a butterfly home.
30. Store your homemade sugar scrubs in jars. You'll love this Vanilla Brown Sugar Scrub recipe and Lemon Scrub recipe.
31. Make a spice drawer with small jars.
32. Store twine or yarn.
33. Make a terrarium with acorns. This is so cute… learn how to make one here.
34. Keep the bugs away with citronella candle jars.
35. Make chili-to-go by stacking layers of toppings and chili. See my Chili in a Jar recipe here.
36. Use as utensil holders. Wrap utensils in napkins or bandanas and add to a jar.
37. Turn upside down, glue a tiny tree to the inside lid and add snow to make snow globes.
38. Store cupcake wrappers in jars.
39. Layer Salad in a Jar. See my pizza party here and how I used jars for salad.
40. Organize your kitchen pantry. Store pasta and rice in jars.
42. Use a jar for a personalized place setting.
43. Make kid reward jars. Use marbles, legos or other small objects to represent their good behavior. When the jar is full, kids get their reward! Get the Good Kid jar labels here.
44. Make a slit in the lid for a piggy bank.
45. Use jars as gift holders. Get this Bacon Chex Mix recipe and gift tags here.
46. Use a jar for storing small trinkets such as buttons and jewelry.
47. Make a layered dessert for Father's Day. Get the recipe and gift tags here.
50. Make a pin cushion jar and store sewing tools inside.
You might also like these Must See Mason Jars: