Inspiring kitchen pantry organization ideas with free printable kitchen pantry labels to stay organized. How to makeover a kitchen pantry with $50 or less!
Easy Kitchen Pantry Organization Ideas
I'm so excited to share these easy Kitchen Pantry Organization Ideas! This simple makeover is a fun transformation with inspiring organizing ideas for those of us hoping to get our kitchen pantry in order.
After remodeling my kitchen I'm always on the lookout for ways to keep it organized. Thanks to my friend Mandi for sharing her kitchen pantry today.
I helped out a bit by designing some Free Printable Kitchen Pantry Labels that you can print below.
I'll let Mandi explain what she did. Enjoy these cheap and easy kitchen pantry organization ideas with free printable kitchen pantry labels to organize your kitchen.
Easy Kitchen Pantry Organization Ideas
A perfectly organized pantry is something I have always wanted to have. Don't we all? Unfortunately I just never quite met my goal.
I always tried to clean out the pantry before putting away the groceries, but life got in the way. You know the phone rang, the dog was trying to get into the bags, the kids were trying to find a snack because they were "starving" and could not wait one more second.
It has always been easier to shove things on a shelf and be done with it. The only problem with that quick method was, well let's be honest, there are many problems with that method!
For one, my pantry was a complete mess. I could never find anything, so I just kept buying more of the same products.
Kitchen Pantry Before
Once I found six, yes you read that right six bags of rice. Now we do eat a lot of rice around here, but come on that is just ridiculous. ha!
There were so many half bags of chips, I just had to roll my eyes. I will not even mention the amount of tea bags, we don't even really drink tea.
The time had come to get this hot mess under control and to stop wasting money! So operation pantry party started.
Kitchen Pantry After
I'm not going to lie, I did spend A LOT of time on this project. If you are not a slob like us, then maybe your pantry will not take as long to organize. If you are worse then me well, I will pray for you!
An organized pantry really can be achieved. Just follow these easy steps, pump up some tunes and get working. You will want to give yourself a HIGH 5 when you're finished!
More organization ideas you might love:
8 Easy Organization Tips For Your Pantry
I hope you enjoy this Kitchen Pantry Organization Makeover and get lots of good ideas.
1. Get everything out. You have to see what you have before you can get things into a good working order.
2. Clean the shelves with some cleaner. Who knows what kind of germs you are growing in there!
3. Get to tossing all the old food, and for heavens sakes if there are only crumbs left in a bag throw it out!
4. Group your food together. For example, chips, crackers, baking needs, snacks etc.
5. Now the fun part, GO SHOPPING. Get baskets, containers, shelves, and tubs to put your groupings together.
Repurpose containers from other areas of your home.
6. Fill up your new purchases. Only get containers that make sense for your needs. For example, if you do not eat cereal, then don't get cereal containers.
A cheap laundry basket works great for your recycling. This is much more clean and organized than stuffing items in a corner of the kitchen cabinet. Yes, that was my very high class method before.
7. Print our cute Free Printable Chalkboard Labels and put them on your containers. (see the link below)
8. KEEP IT CLEAN! Now you can see what you have so the chances of you buying another bag of rice is less. Taking a quick inventory before you go to the store is so much easier with organized shelves.
I really wanted my pantry to match and look extra nice with coordinating baskets. If you are on a tight budget then use things you have already at home.
The goal is not for it to be cute, just organized! Here is a list of things I used and places I went to find items. I actually had fun with this project and felt to good when it was finished!

Great Storage Ideas for your Kitchen Pantry
Use Command hooks to hang a meal plan or the family calendar on the pantry door.
A snack basket for each child (prevents fighting).
Shops with great Pantry containers
Ikea, Walmart, The Dollar Tree, Target (dollar section), your own house! You would be amazed at what you have at home that you can use. There are also a lot of choices online at Amazon here.
Some items I used:
Found at Walmart:
laundry basket
teal and grey baskets
canned good shelves
Found at Ikea:
white metal baskets
cereal containers
glass jars with lids
magazine holders
Free Printable Kitchen Pantry Labels
Download our 40 printable kitchen pantry labels and have fun getting organized!
Download this Free Printable
Sign up to get a 1 Month free membership to the Living Locurto Free Printable Library! Click here or the button below for this printable and more!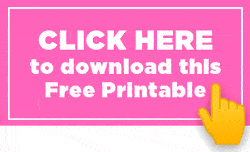 ©2020 LivingLocurto.com | For Personal Use Only
We suggest printing on Letter Sized Sticker Paper and cutting them out with scissors.
Originally published on May 10, 2016