I wasn't going to write tonight. I was going to get all my work done with no distractions. I have deadlines, lots to do. Well, here I am. Writing! I have something on my mind and need someone else's opinion.
My daughter just started a new preschool this week. It's a lovely school, where she is surrounded by friends and my friend's children. I thought it would be nice to be closer to home. The last school was a long drive to another suburb. It was such a nice and well run school, so it was a hard decision to leave. Now I'm not so sure I made the right choice.
I don't know if I'm being over sensitive about some of the comments her teacher made to me today. I know being with 8-10 two year olds for half a day could make anyone bonkers. So I'm trying to look at it from her perspective also. She is young and shy. So maybe she is just inexperienced in dealing with parents. What did she say? Well, this is where I need your opinion… am I being too sensitive? (If you know me personally… NOBODY has ever called me sensitive, especially me!!!) So this is why I'm so perplexed! ha.
*******
I walk to the door to get my child: (this is only the second day she has been to school)
Teacher: "Well, today was a MUCH better day with her."
Me: What do you mean better? Did you have a hard time with her on Tuesday?
Well, you're going to have to work with her on napping.
I told you she doesn't sleep anywhere but her bed. Not even in the car. Ever. Ugh. Did she not even sit on her nap mat?
You're just going to have to work with her and teach her to be quiet while the other children are napping. We do have children who nap in this class and it needs to be quiet.
Oh, was she talking the entire time? She does like to talk! (I'm being cheerful here folks… hoping to lighten her up from the hard day with preschoolers.)
Yes. And that's a good thing, but not during quiet time. (this was said in a sweet sounding voice, not in anyway mean…. just stating the fact.)
Well, Is there something you can do, like read to her? Last year, her teachers would take her for a stroller ride or to another class to help pick up toys.
We really need her to be quiet and rest. Maybe when you get home, you could just work with her. Oh, and also… (then she went through school procedures that we need to follow)
*******
Any who, that was the extend of our conversation.
How do you teach a 2 year old who loves to talk and not sleep anywhere but her bed… to be quiet and nap in a tiny room with 9 other kids and all kinds of neat toys within reach? mmmmm… that's a hard one. For one, it probably ain't going to happen. Especially the first week of school. She might eventually learn to lay quietly after a week or so of watching the other children.
I thought it was a strange remark. I guess I thought the teacher was supposed to work with the children and get them used to the schedule… not the other way around?
My daughter was in a gymnastic camp this summer. Every time I picked her up, several kids were still napping and mine was bee bopping around, helping the teacher. That teacher said she was the sweetest thing ever. Maybe she was just much more experienced and knew how to make a parent feel good about leaving their child in her care. Maybe the new school is just hectic now because it's the first week? Maybe once the teacher gets a hang of things, they will all get on schedule and learn the daily routine?
What do you think about this? For some reason it rubbed me the wrong way… am I over reacting?
***UPDATE***
I ended up switching schools back to the one my children have attended for the last five years. I think it's the right choice for my girl. And guess what? On her first day of school, she napped!! I was shocked. It was because they have a separate room for napping and it was dark. I think she just needs to be away from toys and for it to be dark. Yeah!!
***For those of you who have children at the previous school, I don't want to scare you away by any means. Most moms I know, seem very happy with their children being there and that is wonderful. Our teacher was very sweet, but I suppose I was spoiled by our previous school and didn't realize how much I missed it.
•
Living Locurto …. the ramblings of a creative mom.
Want a peek into my world? Read this.
•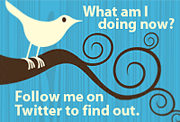 Join my Halloween Blog Party and have a chance to win fun prizes!!!
Check back soon for more festive Fall ideas.