Hot Chocolate Bombs are easy to make at home with this no mold hot cocoa bombs recipe! Red candy filled with hot chocolate mix, holiday sprinkles and mini marshmallows makes the perfect Christmas drink or gift.
How to Make Hot Chocolate Bombs with No Silicone Mold
This festive Christmas themed Hot Chocolate Cocoa Bombs Recipe with my free printable tag design is such a fun gift idea to make for your friends this year! Best of all, I made this recipe with no silicone mold!
If you don't know what a hot chocolate bomb is, it's basically chocolate candy melted and formed into a hollow ball, then filled with hot cocoa mix and mini marshmallows. When you place one into a mug and pour hot milk over it, you'll watch it blow up and bubble. Mix for an enjoyable hot chocolate drink! It's really fun for all ages and super trendy right now.
Easy Recipe for Christmas Gifts
Along with this recipe for making hot chocolate bombs in a muffin pan, I designed a free printable gift tag for an amazing homemade gift. With Christmas coming up soon and the Elf on a Shelf visiting from the North Pole soon, I thought you would enjoy this fun food craft and free printable Christmas gift tags!
Can I Make These Hot Cocoa Bombs with Chocolate Chips?
Yes, you could make these with chocolate candy melts or chocolate chips. ***Please note, I didn't test my method with chocolate chips, so please do a test on a few cups before making a big batch.
I thought red candy was extra festive for Christmas! This red candy version is also different than the hot cocoa bombs in stores now, making your homemade gift extra unique. If you prefer to buy yours, find hot chocolate bombs —> here on Amazon.
How do You Make a Hot Chocolate Bomb Without a Silicone Mold?
The easiest way to make a hot chocolate bomb is with a round silicone mold. Not everyone has silicone molds handy at home, so I tested out a few different ways to make a cocoa bomb without a silicone mold.
I wish I had a silicone mini muffin pan, then I could have popped them out of the pan super easy. But I didn't have one, so below are my test results.
Test 1
First, I melted my candy and added it to a mini muffin pan to make a cup. Then I thought that might stick to the pan or break when I tried to get the dried candy out, so I tried another way.
Test 2
The second way was with a cupcake wrapper inside of the mini muffin pan. This way you can easily get the candy out of the pan and tear off the wrapper after the candy hardens.
Both ways worked! Make whichever way you like. The first test came out with smooth candy, and the other has ridges from the cupcake wrapper. Both work just the same and taste just as good!
Tips for Getting the Hardened Chocolate Out of the Muffin Pan
When you're ready to remove the chocolate cups from the pan, you definitely don't want to break them and need to be gentle.
If using a cupcake wrapper, you won't have a problem getting them out with your fingers or a butter knife. If you have a silicone mini muffin pan, you'll have no problem!
Don't have mini cupcake wrappers, and like the smoother edge look for your cocoa bombs? Just know, it will take some patience getting them out of the pan.
Using no cupcake wrapper for smoother edges requires turning the muffin tin upside down on the kitchen counter, then tapping the pan on the counter. I had to tap the pan pretty hard to get my candy cups to fall out. It will make a very loud sound, but after a few hard taps, the candy (if using candy melts) falls right out of the pan. Be sure to test a few before making a whole pan full. You might decide to use cupcake wrappers instead.
What Goes Inside of a Hot Chocolate Bomb?
Hot cocoa or hot chocolate mix is a must! But other goodies are also great to make your drinks full of fun surprises. Try candy sprinkles, mini dried marshmallow bits, crushed peppermint candy, mini chocolate chips or mini M&M's.
I used hot cocoa mix, red and green Christmas candy sprinkles and marshmallow bits in mine. It turned out so good. The milk turns red when using red candy melts, but that's part of the holiday fun!
What you'll need to Make Hot Chocolate Bombs
Download the Free Printable Hot Chocolate Chocolate Bombs Gift Tags
The gift tag says: "Drop this hot cocoa bomb into a mug of hot milk for a bubbly surprise!"
Sign up to get a 1 Month FREE membership to the Living Locurto Free Printable Library and enjoy these funny printables and more!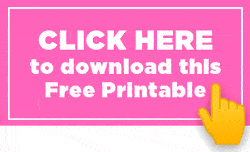 Print the recipe below. Have fun making them!
Hot Chocolate Bombs Recipe
Hot Chocolate Cocoa Bombs are easy to make at home with this no mold recipe! Red chocolate candy filled with hot chocolate mix, holiday sprinkles and mini marshmallows makes the perfect Christmas drink or gift.
Equipment
Mini muffin pan (silicone works best)
Mini cupcake wrappers (optional)
Round silicone mold (optional)
Ingredients
1

cup

red candy melts

use milk chocolate melts if you prefer

1

cup

hot chocolate mix

½

cup

mini dried marshmallow bits

¼

cup

red and green candy sprinkles
Instructions
Add your candy melts to a glass bowl and microwave for 30 seconds at a time, stirring between each 30 seconds until melted.

If using cupcake wrappers, add them to your muffin pan.

Fill a muffin cup halfway full with the melted candy.

Using a spoon or pastry/grill brush gently rub around the edges of the cup until you form a cup.

Repeat until you've used up most of your candy (save some for later). Set aside until candy completely hardens, about 10-20 minutes.

Remove the candy from the muffin pan and remove wrappers. If you didn't use wrappers, turn the pan upside down on the counter and tap hard several times until the candy cups fall out.

Fill one of the candy cups with hot chocolate mix, top with 8-10 dried mini marshmallows and sprinkles.

Melt the candy melts from your bowl again for 30 seconds in the microwave until soft.

Dip the edges of an empty candy cup into the melted candy, then attach to the cup filled with hot chocolate mix.

Use a butter knife or spoon to close the seam with more melted candy if needed. You can also patch any extra holes now too.

Set aside to harden and repeat with your other cups.

Drop in a mug of hot milk and enjoy or place in a bag for gift giving.
Notes
If using chocolate chips, please do a test.*
*I did not test the muffin pan technique with melted chocolate chips. If you're not using candy melts or cupcake wrappers, be sure to test making a few chocolate cups before making a whole pan full.
Depending on what type of candy you use, you might decide it's too difficult to get the chocolate cups out of the pan and decide to use cupcake wrappers instead.
Leave a Comment
Nutrition
Calories:
195
kcal
|
Carbohydrates:
30
g
|
Protein:
1
g
|
Fat:
9
g
|
Saturated Fat:
7
g
|
Sodium:
224
mg
|
Fiber:
1
g
|
Sugar:
27
g
|
Calcium:
24
mg
|
Iron:
1
mg