6 easy DIY homemade face mask tutorials to try now. Some of the best sewing and no-sew face mask patterns to make at home for your family and medical professionals.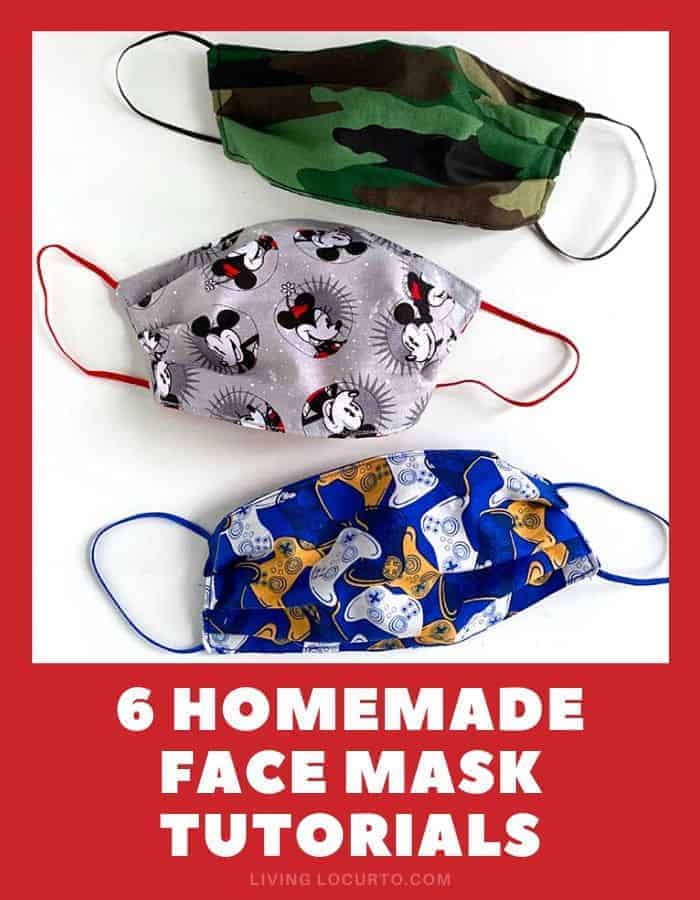 6 Easy DIY Homemade Face Mask Tutorials
One of my friends has been hard at work sewing homemade face masks, which got me thinking I should make some, but which tutorial should I try? With so many out there, how do you know which face mask tutorials are the best?
After researching, I found 6 Easy Homemade Face Mask Tutorials to choose from. When you need to know how to make a homemade face mask, here are some amazing sewing tutorials and no-sew DIY face mask patterns to try!
Why You Should Wear a Face Mask Now?
You want to wear a mask to protect others around you and to also protect yourself from touching your nose and mouth. It's ideal to have a surgical mask, but those need to be saved for medical professionals.
The US Surgeon General advised against buying masks for use by healthy people. One important reason to discourage widespread use of face masks is to preserve limited supplies for professional use in health-care settings.
On Friday April 3, White House task force member Dr. Anthony Fauci suggested the general public wear cloth masks if they cannot keep a safe distance from others.
Also, some cities are requiring people to cover their nose and mouth when entering public buildings, using public transportation, taxis and ride shares and pumping gas.
A HUGE shout out to those working hard making masks for those in need!
First of all, I need to give a big shout out to those of you working hard sewing masks during this time! One of them is my amazing friend Katrina Looper.
Katrina has been working hard into the night at her sewing machine. She has made nearly 200 face masks!
Katrina is donating ALL of her masks to her doctor offices, friends, family, food banks and any other medical professional and front line workers that she hears is in need of a mask.
These are the masks she made for my family. Aren't they adorable? I have a lot of fabric from crafts I never made and need to take some to her soon.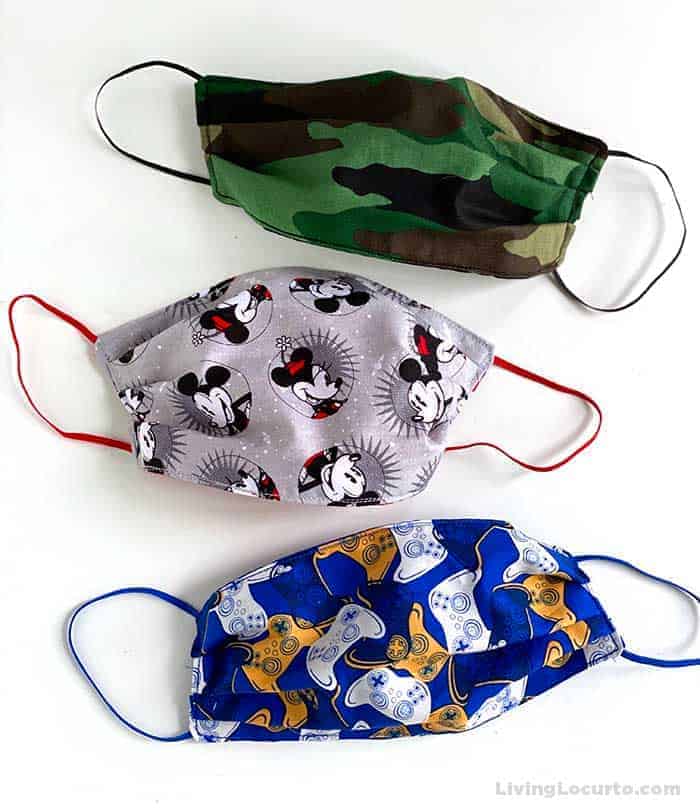 Thank you for sharing your talents and for being so generous Katrina! This makes my heart so happy and her shirt is perfect. FYII, I found one here. So cute!
Can a homemade face mask protect me?
No DIY mask can guarantee you won't get infected with a virus, but any protection will reduce your risk compared to not wearing a mask at all.
Data shows that DIY masks made with a single layer of cotton clothing or a tea towel can only remove 50-60% of virus-sized particles. Find more details on the study of DIY masks here.
IMPORTANT: According to the CDC, cloth face coverings should not be placed on young children younger than 2 years of age, anyone who has trouble breathing, or is unconscious, incapacitated or otherwise unable to remove the cover without assistance.
6 Homemade Face Mask Tutorials
If you have a love of sewing or want to make masks for loved ones, I encourage you to check out these great tutorials below.
Don't know how to sew? –> Learn How to Sew with these easy online classes.
Somethings you'll need:
Cotton Fabrics with a high thread count – Flannel is a good option to use for a layer in between the outer cotton fabric.
Needle and thread if hand sewing.
Elastic (I saw some on Amazon here)
Scissors
Use filters with masks if you make a pocket or take your masks to hospitals and they can add filters. You can also use coffee filters if you have them at home.
1. Easy DIY Homemade Face Mask Sewing Tutorial
This is the homemade face mask similar to what my friend Katrina made for my family. If you know how to sew, it's super simple and only takes 10 minutes.
Don't know how to sew? Learn How to Sew with these easy online classes.
Have more time and want to learn how to make a face mask with a filter pocket and adjustable wire? These next two tutorials are great for medical professionals.
2. The Olson Face Mask Pattern for Medical Professionals
A new modular mask, The Olson, named after 1930's legendary maker nurse Lyla Mae Olson, was quickly developed by clinicians from UnityPoint Health, a network of hospitals, clinics and home care services in Iowa, Illinois and Wisconsin. Their mask pattern is being shared across the globe right now.
Check your local hospital's website because they might have a certain type of mask that they prefer.
Download the Olson Mask Pattern Here
This tutorial is for the mask part only. The hospital will provide the filter, double-sided tape and hair bands and assemble here after masks are dropped off.
3. Simple Face Mask Sewing Tutorial with a Filter Pocket and Adjustable Wire
What kind of face mask can I make if I don't have a sewing machine?
My favorite no-sewing machine tutorials have been to make a mask from a T-shirt. You need to wash the T-shirt in hot water first, then wash the mask after you wear it.
4. No-Sew T-Shirt Face Mask
5. Face Mask Hand Sew Tutorial
What If I'm at High-Risk?
If you're at high-risk for getting the disease or you work in an essential business surrounded by other people, you want a mask that filters particles from the air. Having a seal around your face is ideal.
A mask made with HEPA (high-efficiency particulate absorbing) material contains filters, which are certified to remove at least 99.9% of airborne particles.
6. HEPA Vacuum Bag Mask
This mask pattern by Instructables can only be worn once. It provides a tight seal and has a HEPA filter. You can't wash this mask, so if you make this be sure to make several at a time.
–> Please do your research if you decide to make a face mask from a vacuum bag. If you aren't sure using a vacuum filter is safe, a doctor explains how to make a face mask that utilizes a HEPA filter here.
Don't know how to sew? –> Learn How to Sew with these easy online classes.
Want more face mask ideas?
The Center for Disease Control has put out some face mask guideline and patterns as well here.
Don't want to make your own Face masks?
Check out these adorable Disney Face Masks!
Looking for more helpful ideas? Try these: