Our poor Christmas elf was captured by our LEGO minifigures this week! This funny Elf on the Shelf idea had my kids so excited.
A LEGO Ambush is a Funny Elf Idea!
While our Elf on the Shelf, Peter, and his Barbie friends were having a wild party and taking photos one night, the LEGO minifigures were watching and NOT happy. I guess they got really jealous that they were not asked to join the fun! Today, we found Peter tied up and his photo props in the hands of our LEGO minifigures. They even wrote a note for him that said "Invite us next time!" Through it all, Peter still had a smile on his face. I guess he thought it was funny.
It was fun hearing my kids shout, "Peter was ambushed!", when they found him that morning. Even the Barbies were surrounded. They looked very distressed. Who knew LEGO minifigures would care so much about being left out of a party?
The next morning, we found our poor Peter guarded by some army guys and the LEGOS were having fun with the Barbies. I guess all has been forgiven. Our Elf better remember to include them in his wild parties next time!
** Photos ©2012-207 LivingLocurto.com • Please do not use without permission • See sidebar for terms ***
More Christmas Elf Ideas!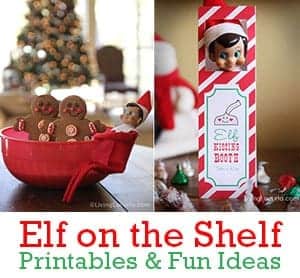 When our elf brought magic seeds that grew cookies… it was AMAZING! Shhh! Don't let your kids know what happens and just enjoy the fact that they will be on their BEST behavior waiting for the seeds to grow! Get the details about the Elf Magic Seeds here.
Elves LOVE to party! Our elf Peter brought these fabulous photos from the party to my kids. They got wild! Get the printable Elf Party photos for yourself here.