25 of the BEST Elf On The Shelf Ideas! Find fun posing ideas for moving your elf, cute free printables, elf arrival ideas and many more DIY ideas for your kid's Christmas elf. Enjoy over a month of elf ideas!
25 of BEST Elf On The Shelf Ideas
When it's time for your Christmas Elf on the Shelf to arrive, you might be either excited or dreading it.
We always get excited when our elf Peter comes to visit. He is a sneaky elf and always comes up with the funniest things to surprise us.
We always have lot of fun catching our elf doing wacky things like showing up in a Kissing Booth, with a doctor's note because he's sick and can't move, or playing elf video games!
He also enjoys taking marshmallow baths and is always up to something silly!
Originally published on December 15, 2011
Over a Month of Elf on the Shelf Ideas
I'm happy to have over a MONTH of super fun ideas here for your Christmas Elf on the Shelf!
Click here for all of our Elf on the Shelf Ideas <–
Recently, I asked those of you on the Living Locurto Facebook page to send me your Elf on the Shelf photos. In about five minutes, my in box was loaded with hilarious Elf photos!
Apparently, there are a ton of crazy little elves out there watching over little boys and girls. I got so many photos, that I couldn't feature them all here, so I chose 25 photos to feature in a "Free Printable Elf on the Shelf Posing Guide" e-book.
A few of my favorite Elf on the Shelf ideas
Here are a few of your Elf on the Shelf photos that made me laugh out loud!
Dana's Elf on the Shelf, was caught texting in the middle of the night. Shame on him!
Shannon's elf, named Shelf, was a good little guy and delivered donuts all the way from The North Pole! Yum!
Ginger's Elf on the Shelf tried trapping her kids in their bedrooms! What a prankster!
Does your Elf get wacky too? Share your photos with us.
Get featured by sharing your Elf on the Shelf Photos on Instagram with the Hashtag #LLBlogElf. We'd love to see you photos if you use any of our ideas and printables. It's so much fun!!!
Get more fun Elf on the Shelf Ideas!
–> Find more of my favorite elf printable designs in The North Pole Elf Shop!
Our Favorite Elf on the Shelf Ideas
Along with your 25 Elf Ideas (Get the free printable book below), I've rounded up some of our favorite ideas over the years. I know you'll find lots of cute ideas for your elf here. Enjoy!
Elf Arrival Letter that Encourages Kids to Give Back
This simple Elf arrival letter is a great way to encourage kids to give!
Elf Letter Board Signs
With cute signs for an elf arrival, departure and fun in between, these elf sized printable letter board signs give you days of hilarious ideas for your Elf on the Shelf.
Elf Doctor's Note
Every parent needs this Printable Elf Doctors Note that says No moving for 3 days… it's the doctor's order.
Elf Kissing Booth
I Love this ADORABLE Elf Kissing Booth that my Elf showed up in one day! He's so original and creative:-) Click over here for the printable file.
Plant "Magical North Pole" seeds and watch cookies grow!
Get this free printable letter from Santa with magic seed planting instructions. Our kids loved when our Elf on the Shelf Peter did this!

Elf Photo Booth Printables
Get our Elf's printable "elf sized" photo props. Watch out though, Barbie can get wild!! See the elf and Barbie antics here.
We had a Lego Ambush!
A LEGO Ambush is what happens AFTER the photo booth party with Barbie. Oh oh! Better invite everyone to the party next time!
Elf Appreciation Party Photos from The North Pole
Elves LOVE to party! Our elf Peter brought these fabulous photos from the party to my kids. They got wild! Get the printable Elf Party photos for yourself here.
Top 10 Reasons Why Your Elf on the Shelf Did Not Move
These Top 10 Reasons Why Your Elf on the Shelf Did Not Move is the perfect read for kid! It explains it ALL!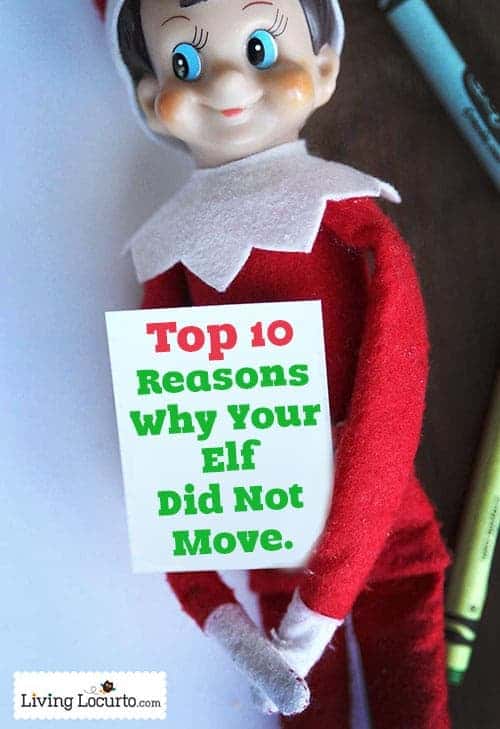 Dreaming of Summer Elf
Peter was sick of the cold weather and we found him laying out in our window getting a tan one day. He's so silly! See more and get the printable beach towel and elf sunglasses here.
Disney Frozen Elf on the Shelf Free Printable
If your kids love Disney's Frozen, this free printable Frozen Elf Idea is super fun!
Get the Elf Phone Printable Here
25 Elf on the Shelf Ideas
For more great Elf on the Shelf Ideas from Living Locurto readers, download the free printable book, 25 Fun Elf on the Shelf Photos. Well it's not really a book, but we'll just call it that okay? Thanks to everyone who submitted such fun photos!!
Download the free printable 25 Fun Elf on the Shelf Ideas below
© 2019 LivingLocurto.com
We love if you share on your websites! But, please ask permission to use photos.
More Adorable Elf Ideas
To See ALL of our Elf on the Shelf Ideas, click the photo below.