It's time for spring projects and I'm very happy to introduce you to Heidi from Parties with Pennies! You will love her simple and easy DIY craft for repurposing glass jars. Thanks for guest posting today Heidi!
One of my favorite shops for house and home products is Anthropologie. Check out what Heidi did as a fun Anthropologie mash-up craft!
Please give Heidi a warm welcome to Living Locurto in the comment section. Thanks!
Hey party people! Thanks so much to Amy for letting me share a fun Spring project with you.
The best way to describe this project is if this chalkboard jar and polka-dotted mug, from Anthropologie, were to have a baby and name it Spring Flower.
How to Repurpose Glass Jars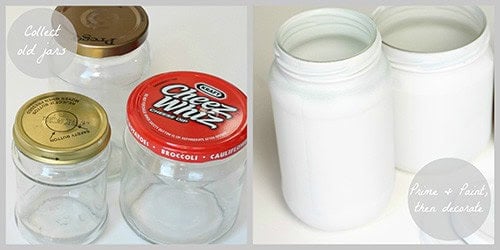 1) All you need are some old glass jars, primer, paint (spray or acrylic), chalkboard vinyl/paper and any other fun decorations you choose.
Cleaning Glass Jar Tips: Most of the labels come off, for me, with hot water and soap. If you have any remaining stubborn sticky bits, you can use Goo Gone or a Brillo pad. The Goo Gone or Brillo pad also work for any dates or numbers left on the jars. If there's a smell still left, use a baking soda, water and lemon juice mixture and soak the jar overnight.
2) Once your jars are dry, spray them with a light coat of primer. Wait for them to dry and spray again with a light coat. After the primer has dried, spray paint them (or use acrylic paint) any color you desire.
3) Using a round stencil sponge, create polka-dots around the jar. If there are air bubbles created by the sponge, use a q-tip and barely tap them to pop.
I used my Cricut to cut out labels from chalkboard vinyl. If you don't have a machine like that, there are labels you can buy at a craft store or you can cut a label out of chalkboard paper yourself.
4) Since Spring is right around the corner, I added some flowers on the top (this was actually Amy's idea & she knows what she's talking about because it turned out adorable) using a glue gun.
You can fill these with fun treats and add one of Amy's featured free printable gift tags. Give them as teacher gifts.
Add a fun greeting and fill with fresh flowers. You could even use them in your home: for office trinkets, bathroom toiletries (cotton balls, q-tips, bobby pins, hair ties), for pantry organization or craft supplies.
Not only are these practical, but they're budget-friendly and fun!
Have a beautiful day and until next time…Party On!
Check out some of Heidi's other great craft projects…
I love this beautiful diaper cake she made for a Secret Garden Baby Shower.
Like today's craft? Then you'll love these DIY Apothecary Jars.
Heidi Rew shows you how to throw caviar-type parties on a hot dog budget through her blog, Parties for Pennies. She grew up the oldest of four kids, where her father was an elementary school teacher and her mom a stay-at-home parent. Having to pinch pennies growing up, helped to steer her creativity. Her background is as a radio personality in Atlanta, GA but her love for throwing fabulous Parties for Pennies established her as a professional blogger. Cultivating a community of party people, Heidi also contributes to Mohawk Flooring's blog as well as featured on the nationally syndicated Better TV Show.
Follow Heidi on: Facebook , Twitter, Pinterest and Instagram.