Disney fans will love these adorable cloth Disney Face Masks for adults and kids. From Star Wars to Disney Princess designs, you'll have a hard time choosing your favorite!
Cute Disney Face Masks
When I shared the fun DIY Face Masks that my friend made me, I got a lot of messages asking where someone could get my Mickey and Minnie Mouse Disney themed face mask. Isn't it cute?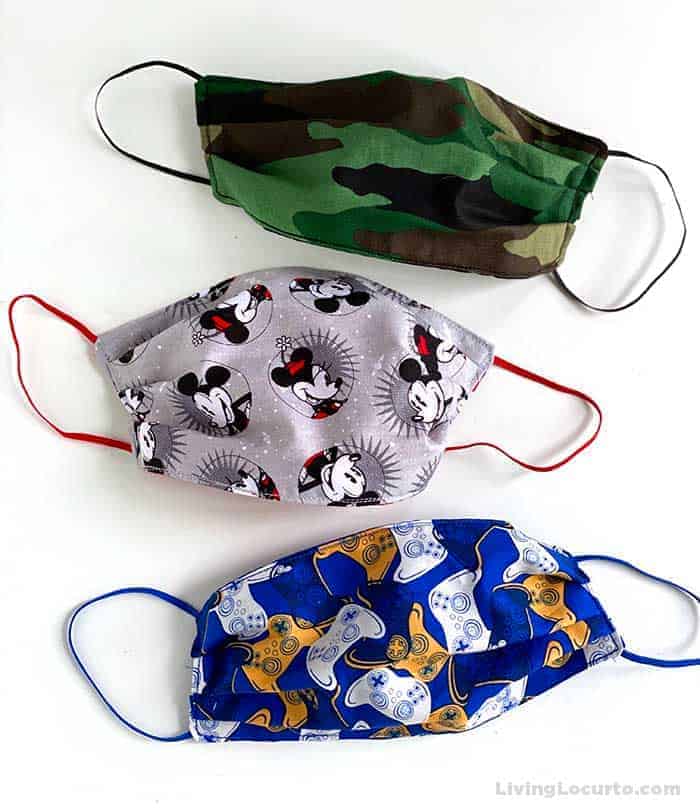 NEW Disney Face Masks for Adults and Kids
I shared 6 Easy DIY Face Mask tutorials here, but now Disney announced they are selling face masks!
This is great news for those of us who don't have time to make a face mask ourselves. The bad news is you will have a hard time deciding which pattern to buy! As of now, these Disney Face Masks featured below are on pre-order for $19.99.
They expect delivery by July 29, 2020. Pre-Order some now before they are sold out!
Each set includes four face masks with four different designs.
Disney's cloth face masks align with the FDA's recommendations on non-surgical, non-industrial grade face masks.
Check out some of my favorite Disney Face Mask designs below.
Star Wars Face Masks
I love the Baby Yoda mask!!! This set includes the Child, R2-D2, allover Star Wars symbols, and Star Wars characters. Get these here.
Disney Princess & Frozen Face Masks
Most girls will probably pick this cute Disney Princess mask set! Designs include The Little Mermaid, Frozen, allover Disney Princess names, and allover Disney Princesses. Get the kids masks here and adults here.
Disney Character Faces
I personally LOVE this cute set with the faces of Mickey Mouse, Winnie the Pooh, Stitch, and Marie! Get them here.
Toy Story & Pixar Characters
My daughter loves these cute Toy Story face masks! Designs include Forky, the PIXAR characters on a blue background, Mike Wazowski, and PIXAR characters on a white background. Get this set here.
Classic Mickey and Minnie Mouse Face Masks
The classic Disney look includes Mickey, Minnie, Minnie face with polka dots, and Mickey icons designs. Get this set here.
Marvel Characters
Have super hero fans? The Marvel logo, Black Panther symbols, the Marvel characters, and Hulk are fun mask designs. Get this set here.
Old Navy Face Masks for Adults and Kids
Not into Disney? You might also love these pretty face masks from Old Navy! Get the adult face masks here and the kids masks here.
These face masks are a little less expensive than Disney's and still super cute! The kids masks are pictured below.
Want to make your own masks? Get 6 Easy DIY Face Mask Tutorials here.